Collection: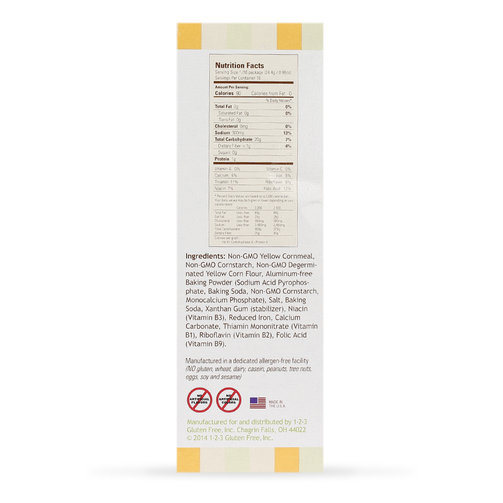 Collection:
Micah's Mouthwatering Corn Bread Mix
Micah's Mouthwatering Corn Bread Mix
Regular price

$10.99

Sale price

$9.99
Tax included.
Gluten Free, Wheat Free, Soy Free, Casein Free, Dairy Free, Potato Free, Sugar Free. You add your own sweetener or you choose to leave it out and have true Southern-style gluten-free corn bread with no sugar at all. Enjoy the corn bread hot out of the oven or use this to make a wonderful gluten-free stuffing! This mix can also be used to make jalapeno-cheddar cornbread, which is great with chili. Makes one 9" round or square pan, 16 large pieces.
Ingredients: Non-GMO yellow cornmeal, Non-GMO cornstarch, Non-GMO Degerminated Yellow corn flour, aluminum free baking powder (sodium acid pyrophosphate baking soda, Non-GMO cornstarch, monocalcium phosphate) salt, baking soda, xanthan gum, Niacin (Vitamin B3), Reduced Iron, Calcium Carbonate, Thiamin Mononitrate (Vitamin B1), Riboflavin (Vitamin B2), Folic Acid (Vitamin B9).  This mix is GMO-free.